How to increase organic traffic with Google Search?
Friends, today's topic is how to increase organic traffic with Google Search? Does that mean how to increase, "Organic Traffic"  on the website? This is a big problem for us, we make a blog post, we also share it. But Traffic does not come on Blog.
Organic traffic drive on the website is a very big task and we have to make a better SEO Strategy and Social Media Strategy for this. Here we will talk about some similar strategies, which can help in Organic Traffic Increase on our blog.
 how to Increase Organic Traffic:
Recently some major updates of Google have come out of which Google Core Search Engine Algorithm update is an important update. Whenever an update from Google comes related to the Core algorithm, then it has more effect on New Blog.
Because new bloggers are engaged in building their reputation on the Internet and they need traffic from Organic Search. In such a situation, there is a slight effect on the arrival of the Search Engine Update. This has impacted my blog traffic.
If we have to increase Organic traffic on our blog in the future and run these updates simultaneously. So we have to always keep some SEO Tips and Search Engine tips in mind.
Tips – focus on quality over quantity, that is, we should focus on the quality of the elements of our blog and not on the Quantity.
Google SEO Specialists and Webmasters believe. Google always brings its Updates keeping the customer in mind and always forward the same blog. Which contains relevant content. In such a situation, if we have to do Google Search Organic Traffic Increase Organic Methods So for this some tips have to follow
Content Optimization:
Content optimization is the most important part of content marketing. In the eyes of Google, the content that users like, which the user should read for a long time and which people share. That is the best content.
In such a situation, whenever a post is to be published on our blog, then we must take care of some things.
Title – When a user does some search on the Internet and our blog appears in Search. So the user first sees the title of our blog and it helps our blog even when it comes first in the search.
Therefore, we should write Title Unique and Informative, so that only by looking at the title, the user will get an idea of ​​what has been talked about on the blog.
Content: While writing content, we all do more quickly. Payless attention to its relevancy and accuracy. Whereas quality content helps us to do Organic Traffic Increase on our website the most.
So whenever you want to write a new post, first start writing about it after doing good content research, Keyword research, and write the content in 1000+ words and pay attention to Uniqueness.
Focus Keyword: While writing the article, select a Focus Long tail keyword and use it in content from 1.5% to 2.0%. That is, if you write 1000 words of content, then you can use your Focus Keyword 10 to 20 times. This will give us an advantage in Keyword ranking and we can easily rank our article on google.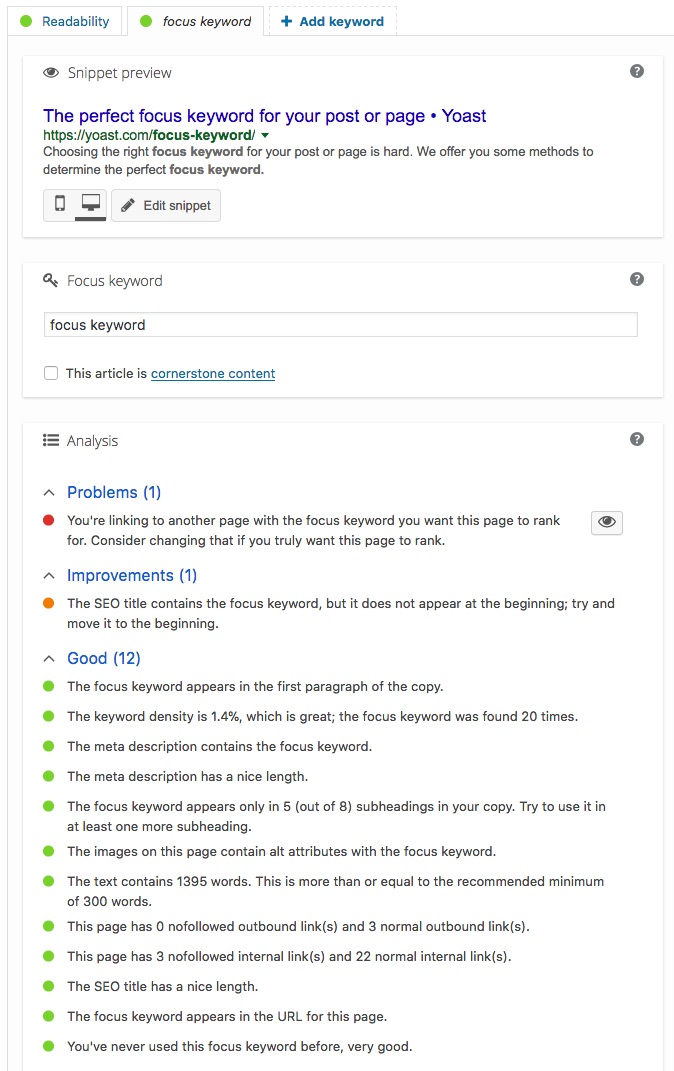 Image Credit: https://yoast.com/
Image Optimization:
The image plays a good role in doing Organic Traffic Increase on Google Search and it is considered to be a better SEO factor to Image Optimization. Therefore, the image must be used in the blog, but keep in mind that the image should be used where the image is needed and do not forget to write about the image in ALT Image.
Social Optimization & Promotion:
Whenever we do a Query Search on the Internet. So we get to see millions of answers related to it. In such a situation, leaving behind all these answers is not an easy task.
In such a situation, Social Optimization and Promotion can help us a lot and it can increase the organic traffic of our blog by 120%.
Because organic traffic increases due to Keyword Optimization and Ranking Improvement of Keyword if our blog is coming first on a Keyword. So we get the highest traffic on it.
With the help of Social Optimization, we can do Keyword Ranking Improve. For this, after writing the post, we have to immediately start on Promotion and submit our post on all websites like Social Media, Social Bookmarking, Directory.
Increase Contribution on Other Website:
Here the method can be a better option for our website reputation and ranking. We should connect with popular websites, forums on the Internet and discuss our website and article there..
Guest posting
Blog Guest is no longer a part of SEO but can help us to Boost Traffic on our website here.
Friends, these are some such important strategies. Which can increase organic traffic on our blog? There are some more Strategies and we have already discussed this.