How to create Short Links or Pretty Links in WordPress
You must have seen on many websites that webmasters create short links to hide big ugly links, which are also good for visitors and short in length. Today we will learn in this article how you can create such links. You must have seen on our blogs, ShoutMeLouds.in that we have created short links for many links, such as an example I have given below.
I have created this link: https://shoutmelouds.in/go/gmail-signup/
This link seems very simple to see, this link will redirect us to the signup page of Gmail. This is a very simple example. By using this technique, you can convert any URL that is bigger and bigger than the best to a good short link.
How can I create ShortLinks in WordPress?
This technique of shortening and converting any URL under your domain or the domain URL of any third party service is called link cloaking.
You can read our article below to understand this thing in detail in a good way.
What is Affiliate Link Cloaking and why you should use it?
The above image clearly shows how good the cloaked links are with the Uncloaked link. I will tell you by using two plugins in this article how you can do this on your website.
If you do not have a website or you promote through social media, then for that I will tell you the process of link shortening.
First, let's go through the WordPress scenario. In WordPress we recommend two plugins, one is ShoutCodes and the other is Prettylinks.
By using shortcodes you will be able to create some such short links:
https://shoutmelouds.in/go/your-keyword/
It will contain a middle directory go in the URL. You can also place any other keyword in place of this go keyword, such as refer, help, out, etc.
Whereas if you use Prettylinks then you can create such short links.
https://shoutmelouds.in/your-keyword/
You can see that there is no middle directory in it.
Now it is your choice which one you want to use. Below I have shown you using both plugins.
How to create Shortlinks from ShoutCodes?
You have to install and activate Shoutcodesplugin. After that go to ShoutCodes in the left pane of your WordPress dashboard and then go to Settings, in this, you set your middle directory keyword, which is by default go. Keep in mind that you set it carefully because it applies to all URLs created with this plugin. If you change these words, again and again, it will have a negative SEO impact.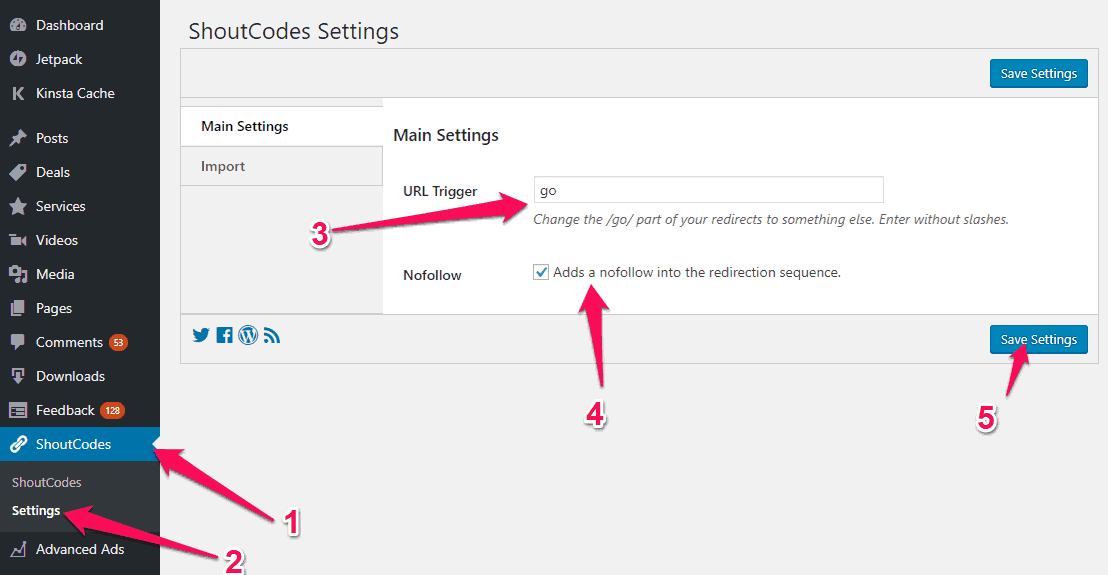 You can keep all links nofollow by ticking the last option. This plugin is good for creating affiliate links because keeping affiliate links nofollow is good.
Learn more about this in this article: What are Nofollow and Dofollow Links?
Creating a short link is just a matter of seconds, simply go to ShoutCodes, set the keyword you want to put, enter the target URL and then tick the count option if you want to track clicks on that link. Give After this simply click on the button of Add Redirect, your short link will be created.

When you create many short links, it will look something like this. You can edit any link whenever you want, see the hits and delete any link at any time.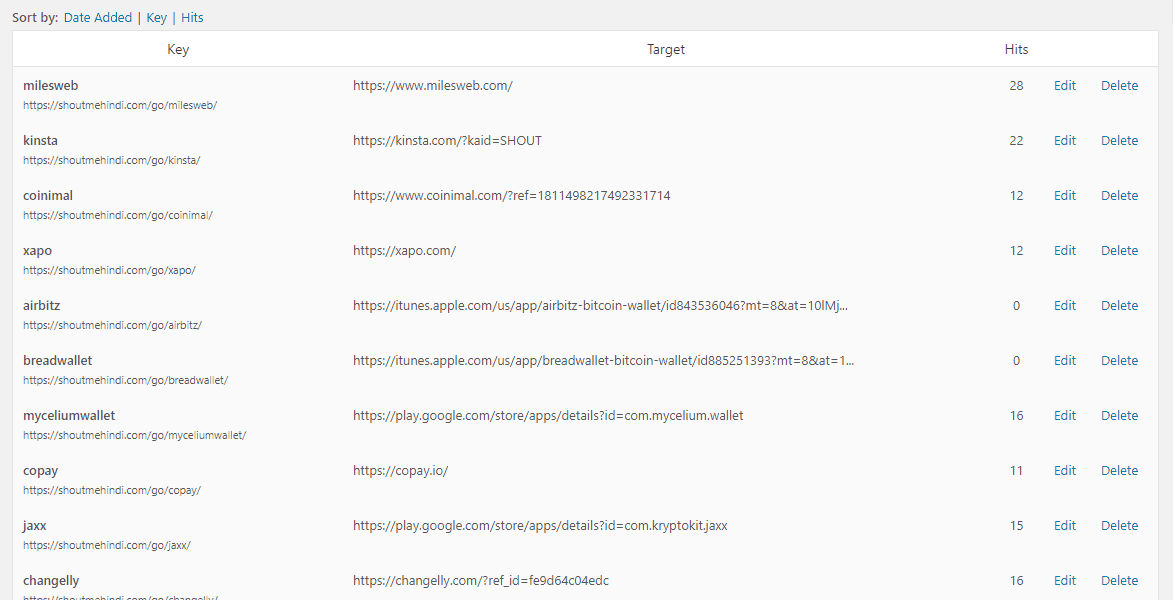 ---
How to create Shorts Links from Pretty Links?
In this too, you can create short links by following the same process.
It is the most popular plugin designed to create short links with more than 2 lakh active installs.
In ShoutCodes plugin you could not set nofollow or follow property for each link. Once you set the property, it applied to all links, but you can do it in this, then this is a plus point to use this plugin.
This is a very featureful plugin, whose features you can see here.
How to create Non-WordPress Shortlinks?
Those who do not use WordPress or do not have their own domain names can use Google's link shortening service, whose name and URL is: https://goo.gl/ 
https://bitly.com/
paste your target link and click the short link.
---
Must read:
If you liked this post of mine, then please do share. Connect with us on Facebook, Instagram, and Twitter. Don't forget to subscribe to us.