Complete Guide to Setup Google AMP
Did you know that more than 53% of the people browsing the internet on mobile do not open such websites which takes more than 3 seconds to load? This means that if you are not paying attention to the speed of the pages loaded on your website's mobile, then you are losing a large part of your website's traffic that you deserve.
When you know that nowadays Google Searches are mostly on mobile, then it becomes important for you to make your website something that loads very fast on mobile. In this case, new technology can help you, Google Accelerated Mobile Pages (Google AMP), which we are going to know about in this article today.
What Google AMP basically does is that the light mobile page versions of your website are maintained on its servers and whenever a guy who opens the site from mobile through Google Search shows it. This causes your site to load within seconds.
In this post basically, we will know how you can set up AMP pages in your WordPress site.
---
What is Google AMP?
Google AMP is an initiative by Google to make mobile websites very fast to load. If you know about Facebook instant articles then this is also a similar concept.
Instead of loading your entire mobile site, it displays a minimalist version of it as shown in the screenshot given below.
For sites that use Google AMP, Google also honors them with a special mark in search results. You can also get a chance to appear in the featured carousel of Google Search.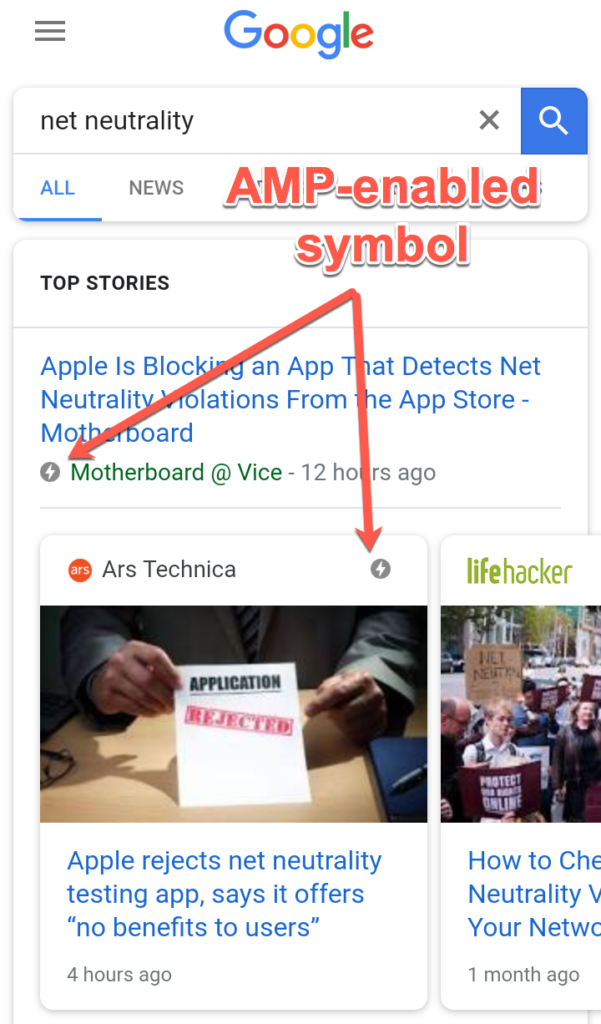 However, Google AMP does not have an effect in certain search engine rankings. But when I tried Google AMP on one of my websites, the traffic of my site increased by more than 25% as shown in the screenshot below.
---
How to setup Google AMP in WordPress?
On many websites, different people will tell you different ways to set up AMP. The method I am going to tell you today is the simplest and I did not take more than 10 minutes to set up it personally.
All you have to do is install 2 plugins and make a few configurations.
First, install and activate the official AMP plugin. (AMP Plugin)
This plugin will bring AMP functionalities to your WordPress site. This is in a way the base for AMP.
If you do not know how to install plugins then read this article
After that, you have to install and activate another plugin called: Accelerated Mobile Pages
With this plugin, we can customize the base of AMP. That is, it is a configuration plugin.
Just now you can customize your AMP pages according to your personal customization.
For your convenience, I provide you screenshots of AMP settings on your site. Otherwise, you should complete these settings according to yourself.
First of all, when you install both these plugins, there will be an option of AMP in the left pane of your WordPress Dashboard. Click on it This is where you have to do all the configurations.
Along with performing the configurations, do not forget to click on the button of Save Changes. Apart from this, you can also put ads in your AMP pages.
To check your AMP pages, simply place the amp after the URL of any page of your site. Such as yourdomain.com/amp/
Note: Many times AMP pages contain errors due to which your AMP pages are not indexed in Google. So you can find out those errors by using this tool. Then it is your own job to do the errors. In this, the configuration plugin of AMP can also help you a little bit.
---
Please share this post on social networks such as Facebook, Google+ and Twitter, etc. to show your happiness and enthusiasm towards our post.
---