Best way to show Contextual related posts in wordpress
You must have visited many blogs and websites. Each blog gives links to its readers to read other posts published on its website. Now he gives these links in different forms. For example, some links give their posts in different places by hyperlinking the text. He gives some links in the recommended reading section and some links at the end of his posts as suggested readings or related posts.
By default, WordPress has the option to show related posts, so that you can display 3 related posts below any of your posts.
There are many benefits to showing related posts to your visitors, such as:
User-experience is good.
Your page views grow.
The bounce-rate decreases.
Engagement increases.
Internal-linking is an overall important factor in SEO.
But which by default is an option with related posts in WordPress, it is not so advanced. In this, you have very limited options. Also, you cannot show more than 3 related posts. If you do not do much internal linking manually, then if you show more than 3 contextual related posts, then you will also benefit in SEO.
Because by doing this, you are promoting your blog post related to your page content related to this page, which is a positive ranking signal according to search engines.
Today we will learn to show Contextually related posts in our WordPress posts, using a plugin. This will help increase the page views of your blog by automatic internal-linking and your Search Engine ranking will also improve.
The name of this plugin is also Contextual Related Posts and it is a very popular plugin that has 60,000+ active installs.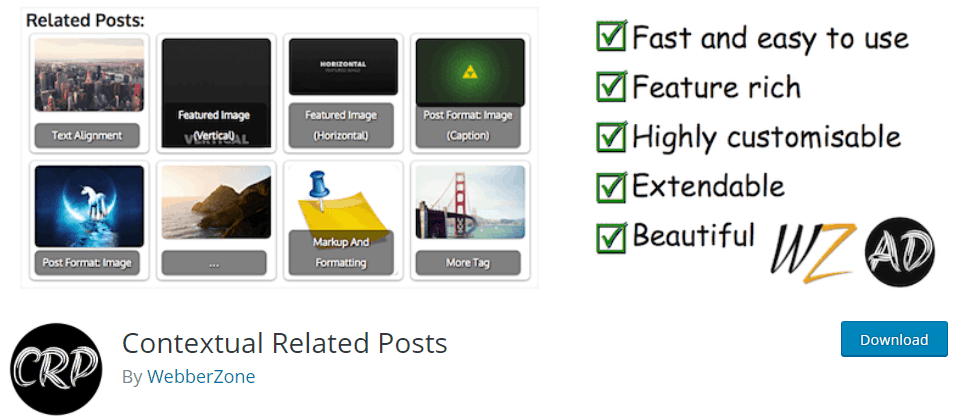 Install and activate this plugin. (How to install WordPress plugins?)
After this, you have to go to Settings> Related Posts.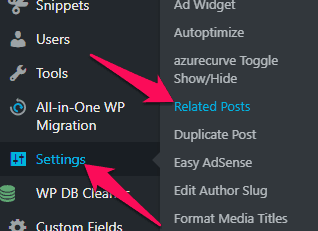 Its settings page is very long and has many configuration options. You don't have to be confuse. You do not even need to edit most of the options.
I am giving screenshots of different sections below. After the screenshot of each section, I will tell you what to actually edit. You can use these screenshot settings as it this.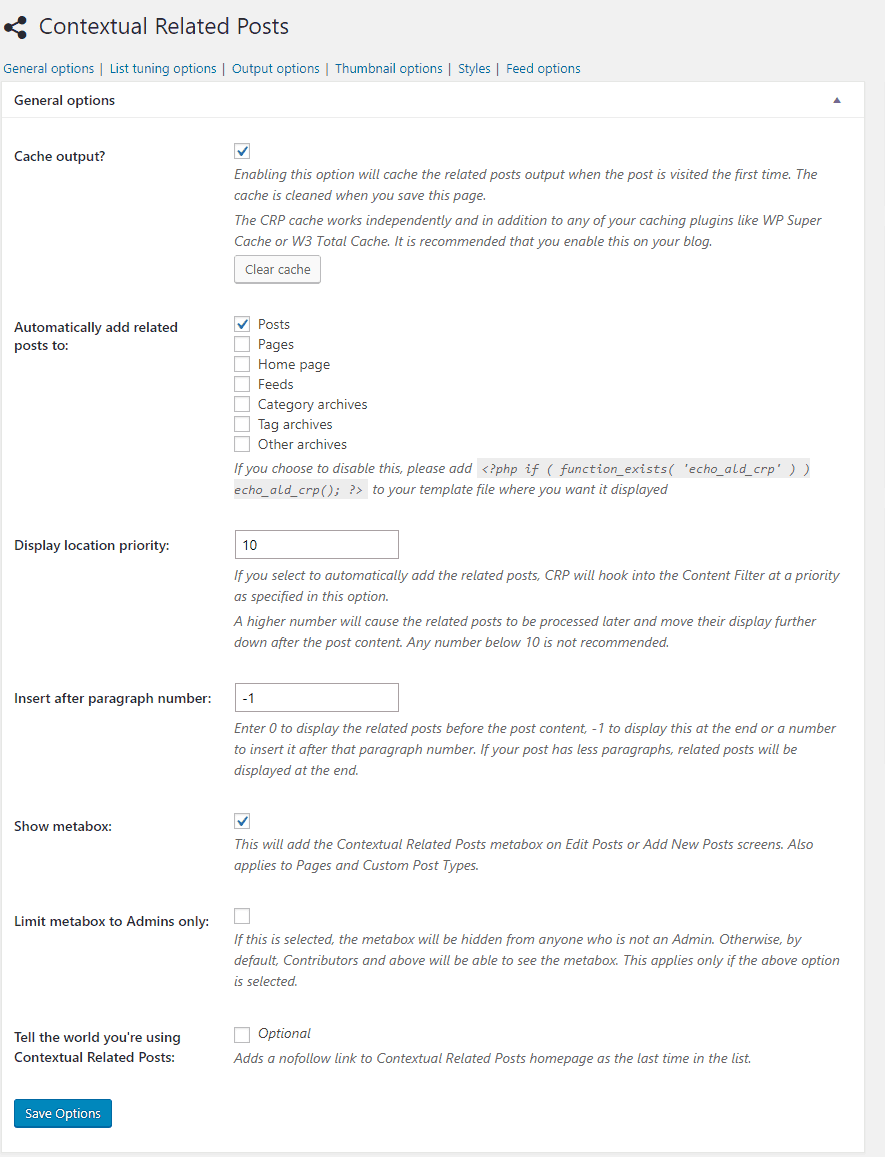 Basically, in the section above, you can set whether you want to keep cache enable or not (this will reduce the load on your webserver). You can also set which post type you want to show in it, as I have only selected posts type and not pages.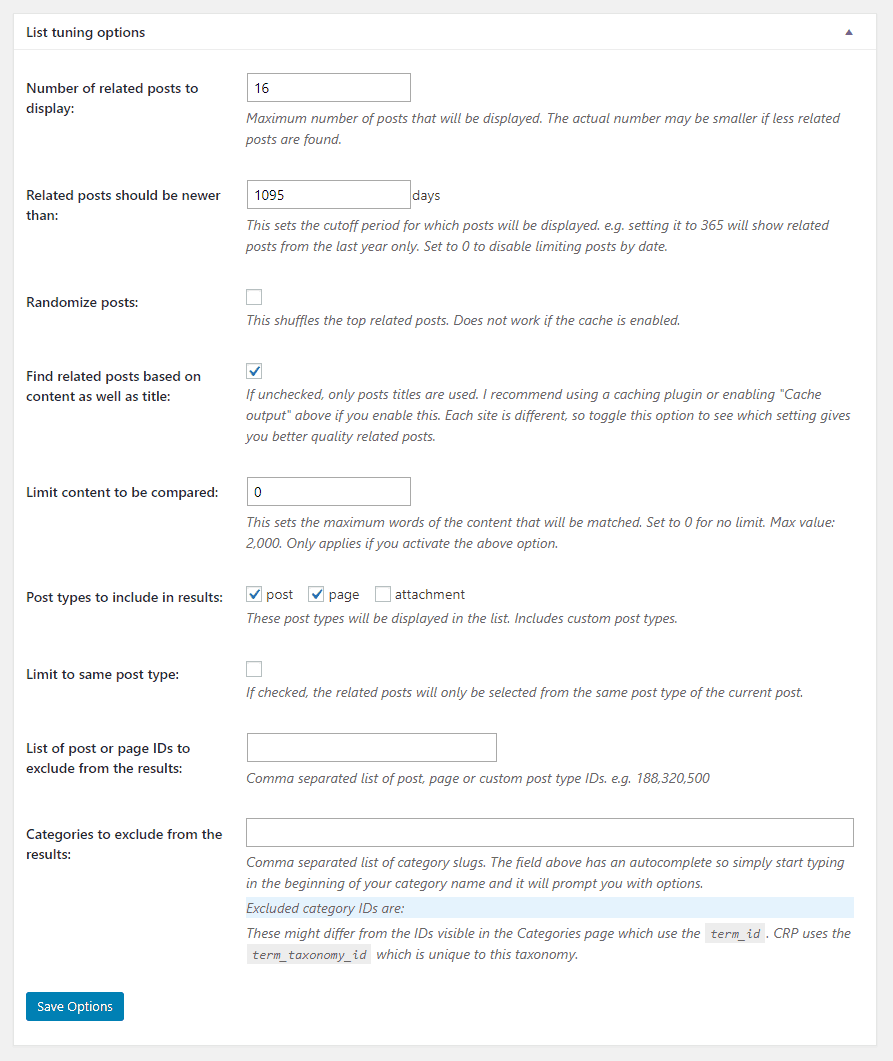 In the section above, you can configure these things to be related posts, how many posts and how many posts are there. As you can see I have set to show 16 posts above.
You set the count according to your own. I set 16 because it is a very large and very high content website. You can also exclude and prioritize posts.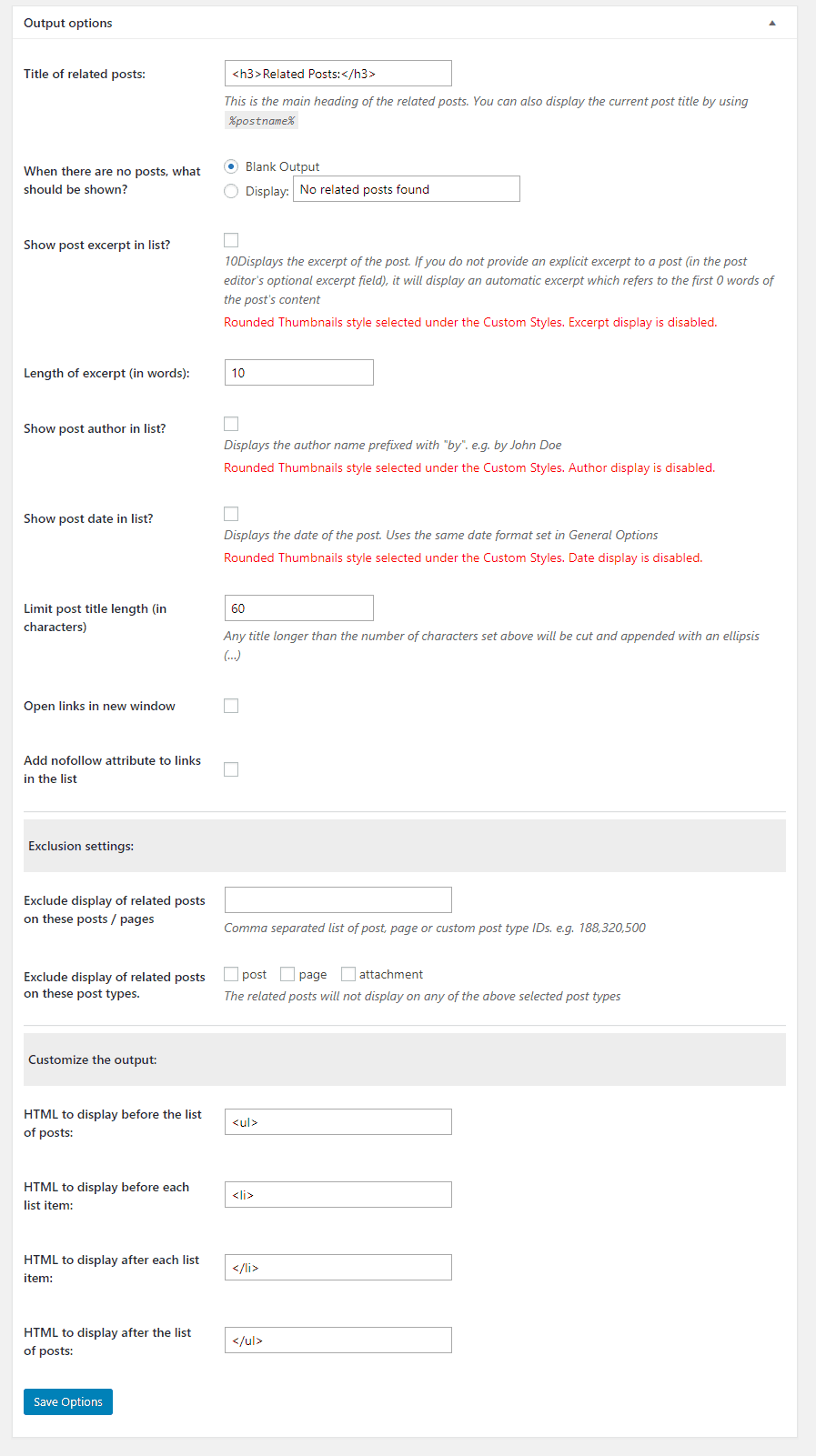 This section above is for output settings, most users do not need to edit it.
In the section below you can customize the output even more. You can configure thumbnails in this section and also set which default thumbnail is displayed if a post does not have a featured image.
In this section too, default settings are recommended for most users.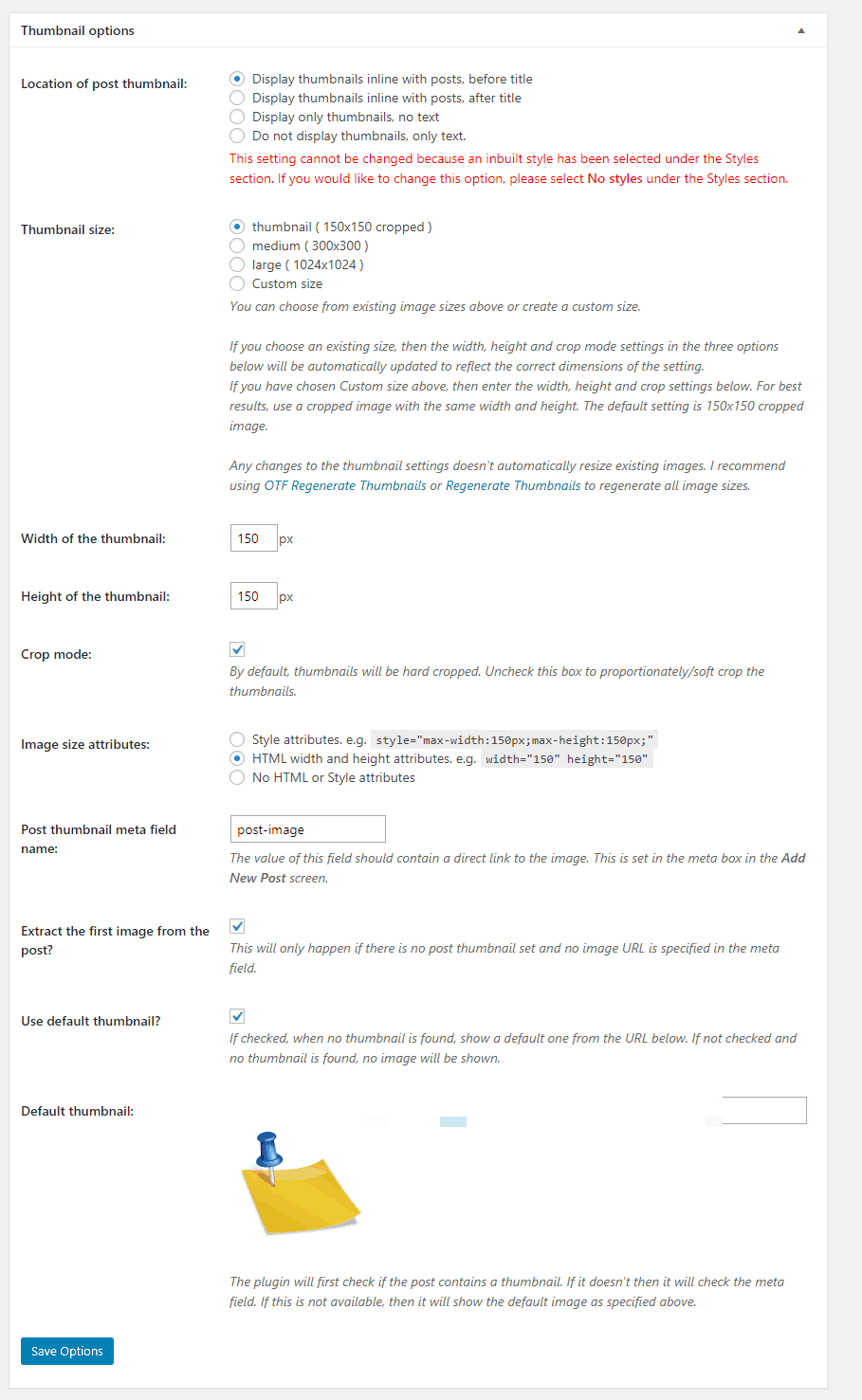 In the section below, you can show contextually related posts to be shown in the feed. Again, normal users do not need to edit this section either.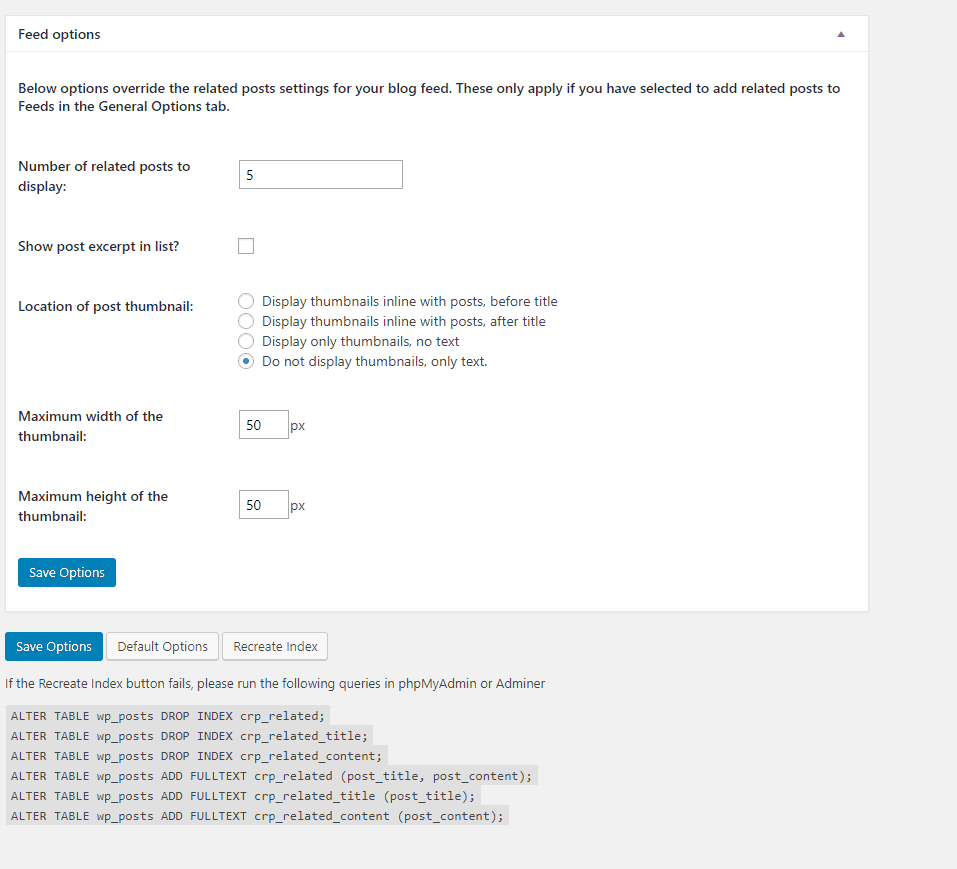 Once you successfully configure all the settings, save them.
After that, you will be able to see that the posts under your posts which will be contextually (according to the relevancy of the content) show under your posts.
---
If you liked this post of mine, then please do share. Connect with us on Facebook, Instagram, and Twitter. Don't forget to subscribe to us.