How to prevent an Adsense account from being disabled
Hello! Readers Welcome back. Today I will tell you how to prevent an Adsense account from being disabled. Google Adsense, one of the dream account, spacially to all the blogger around the world. The reason behind it is that AdSense is the only programmer through which the blog owners can actually earn some money and fulfill the website expenses.
Through the previous post, I have shared How To Create Google Adsense Account 2019. And I have also told that Adsense is very strict for its TOS (Terms and Conditions).
You should take care of some things that do not violate Adsense policies. We all know that getting Adsense Account approval is not an easy task and we also have to take care of many things so that our Adsense Account can remain active.
Recently, I received an email from the Adsense team which said "Adsense serving has been disabled on one of my sites" and I realized that this is the right time to write this post and let new Adsense publishers know about AdSense policies. To get them told and they should avoid certain things so that their account is not banned.
Below I have told you about some simple mistakes that you or Adsense publisher should avoid doing so that your account will not be banned.
Understand Adsense TOS and do not violate Adsense Policies:
1.Invalid Clicks:
This is a very important reason due to which maximum Adsense account is kept in danger zone. Many Adsense publishers who start, they tell their friends to click Ads through their computer or computer with a different IP…
If the Adsense team comes to know about this activity, then the Adsense team disables that account.
2.Use Adsense on unsupported language blog:
Google does not support all languages. In your Adsense program, if you have an Approved Adsense account and you have placed your Ads on those websites which have not been given in the language Adsense TOS, then your account can be blocked.
Approving, if you are using any multi-lingual technology and have also placed ads, then it will be considered a violation of Google policies. That is why I removed the Global Translator plugin from my blog.
Here you can see the list of Adsense supported language.
3.Sending ads on Email:
Many publishers start sending Adsense Ads via email and sometimes this mail becomes viral, then it is also against Google program policies.
4.Advertisement label:
Many publishers keep on using the trick of attracting readers to click ads like click and see hot babe or click to encourage, encourage.
Or many publishers put up pop-up ads, which the viewer has to click even without wanting, this is also a violation of Adsense policies.
5.Competitive contextual advertisement:
Make sure that you are not using other advertisement programs with Adsense somewhere. Although you can use more ad networks with Adsense, keep in mind that those networks also follow Adsense TOS.
6.Altering the Adsense code:
Are you a programmer? Oops! It doesn't matter. Google doesn't allow Adsense code to change anyway.
7.Shading with Image:
If you keep the Google Adsense Image Ads Unit hidden between the image of your blog or website, click on your ads instead of an image, then think that your account can be banned from it. It does not do that with its Image ads unit, you also adjacent your image.
8.Hosting Copyright content:
If you have Adsense ads on your website and are hosting much-copyrighted content on your website, such as a movie, song or other files. If you do this, then Google Adsense can ban the account very quickly. Google Adsense never allows you to use their program with copyright stuff.
9.Paid Traffic:
If you are buying traffic for your Adsense enabled a website, then it is also against Adsense TOS. I would advise you to read Google's Adsense landing page quality guidelines in which you will get an abundant idea about what Google is – What to expect from your page.
10.Making ads look like part of the content:
You are free to change the color or size of your Adsense ads to suit your website, but you cannot create ads completely similar to the content of your site. I have shared in the image below how ads have been hidden in the middle of the content.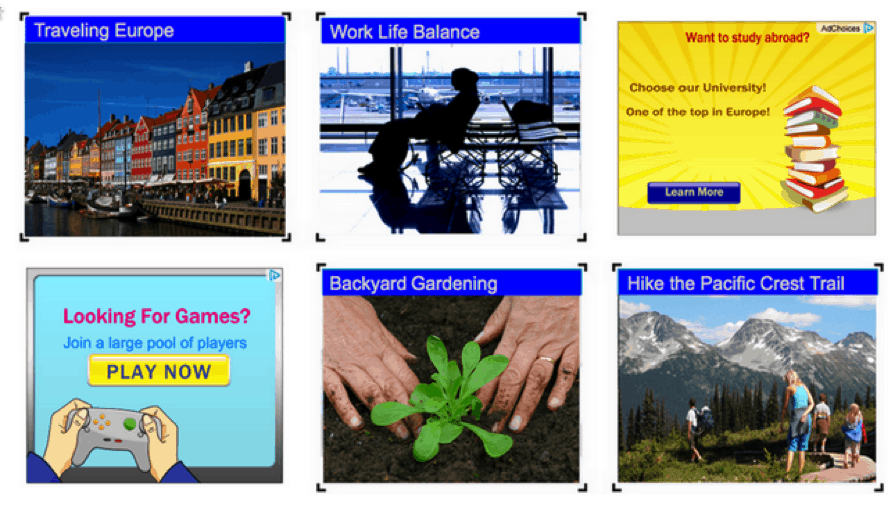 11.Linking to the site who distribute Illegal and copyright content:
I learned about this reason in 2012 and would like to say that this is the reason why many websites are banned by Adsense. If you have linked your site with some such sites like streaming movie, illegal or pirated software, Keygen sites Then Adsense will disable your Ads on your website. Here I have given examples of some content in which Adsense Ads is not allowed –
Porn, Adult material
Violent content
Racial content
Hacking / Cracking
Gambling / Casino
Pages selling Drugs, Alcohol (Beer or hard alcohol)
Arms and ammunition sales
Distribution of course work. Eg: Student essays
They are very few examples given above and it can be very much, so you should also keep in mind that this type of content is not visible in your blog or else your account can also be closed.
Quick things to know:
Making your Adsense ads sticky like this is against the AdSense implementation policy.
If you are using Adsense ads on the site in which videos of Youtube or other video hosting sites are published, then avoid this thing and publish only the original content on your blog/website. A good idea is also that you also write a description of 200-300 words that tell about your video.
Do not publish Adsense ads on the 404 error page, Exit page, log-in page and thank you page.
Also Read,
---